Updating Your Website While Improving Usability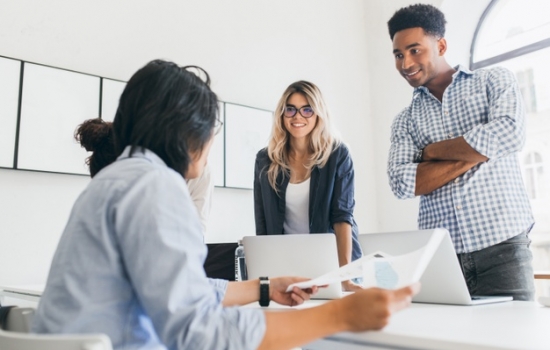 We've recently covered what makes good UX and UI design, and when it comes to designing websites, sometimes less is more. With a few simple improvements you can refresh your website and improve usability at the same time. Several subtle, seemingly small, things can take a good web design and make it great. At Provisio, make sure these little things don't get overlooked when planning a design. Here are a few examples of simple but effective components we use to help elevate your site's design while also improving usability for visitors.
Imagery
Adding quality imagery to your site may seem like a totally obvious design choice. Although it seems like a no brainer, there are several things to consider before throwing images everywhere.  The imagery on your site impacts the user and their experience. Captivating images can establish trust and create emotion for your visitors and each image should have a purpose. They should reflect the values of your brand and company and provide a visual representation of the content. Irrelevant images can be overlooked or ignored.
The background images used on your site can create a sense of atmosphere and it is crucial to know how you want your site to feel when considering this imagery. You can lose site visitors with confusing or off-putting images. Accessibility should also be considered.  For example, if there is text overlay on images, it can be hard to read without the proper contrast to make the text stand out.
At Provisio we always ensure your images are optimized for the web. Large images can slow down your site and cause a negative user experience, and image descriptions foster good SEO.
Iconography
A simple way to streamline the look of your site and add interest is adding iconography. Iconography uses graphics and symbols to convey the meaning of a subject. Any icons used should represent the content so users can easily understand the information being presented – if an icon does not do this, it can lead to confusion and users abandoning your site.
Our design team is here to create cohesion in the iconography used across your whole site. We ensure all icons being used have a similar style and color scheme. Multiple styles can again confuse your visitors and make your site look unprofessional and disjointed.
Keep in mind that icons should not be overused. They should not be used to represent all the information on your site, but rather used intentionally to help visitors understand the content rather than overwhelm them.
We find iconography can be particularly effective in menus, on text heavy pages, and when calling attention to ideas or products that are conceptual but don't have easily understandable images.
Intentional Navigation
At Provisio, we are navigation fanatics. If your visitors can't clearly and easily understand how to access every area of your site, it doesn't matter how sleek we make the design. The primary access to your website is the navigation, so it is vital to put thought and planning into the design of it. There are several design tweaks that can go a long way for navigation and improve your site's usability
Creating an active state indicator for the menu item of the page or category that the user is currently on provides instant context for your visitors and adds a little extra pop. For example, if a user visits your About page, the About navigation item would be a different color than the rest of your menu, so users always know exactly where they are within your site.
If your site has a substantial amount of content with long scrolling pages, then a sticky navigation option might be appropriate. This means a fixed navigation menu on your site that remains visible and in the same position as the user scrolls down and moves around your site This gives your visitors an instant path to the next relevant place they want to see on your site. At Provisio, we focus on making this type of navigation seamless, so it fits with your site's aesthetic and stays out of the way of the content, but is still easy to find.
When it comes to mobile screen sizes, collapsing the menu into a single button activated flyout is usually a good idea, but you cannot just cram everything from your nav behind a hamburger menu button. We determine the main objective of your site and ensure access to the most important areas of your site are easily accessible via the mobile menu. There are several design options for how your navigation menu is displayed across different devices, and there is generally enough room even on the smallest screens to have an important call to action as well as your mobile menu button. This means your site visitors are still directed to, and able to access, the most important information on your site as soon as they visit on their device.
When we create a design, our goal is to quickly communicate your value proposition and then guide the user to the service, offering or information that they will find most valuable. Whether you are looking to create a totally new site or update your current site to improve usability, Proviso can help take your business further, faster? Let's connect!