Why Your SMB Needs Custom Software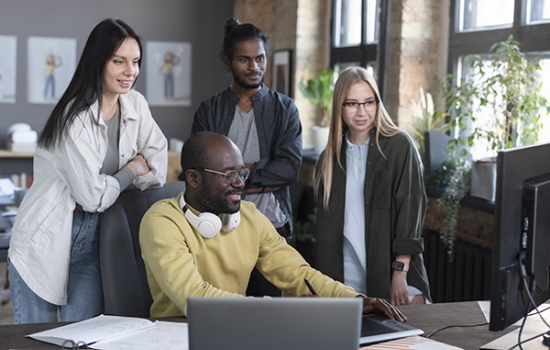 When you first start a business, you discover that you need various software to keep things operating smoothly. Some of the software will be off-the-shelf products that flawlessly suit your needs. However, there will be situations when the software you purchase will not match your requirements and will hinder rather than help you. How will you be able to tell the difference?
Let's define custom software development as the process of creating, maintaining, and improving a software product that is specific to your company. It is perfectly tailored to your requirements, providing you with precisely what you require to enhance your company. Previously, the price of developing customized software made it an option only available to large corporations or well-funded tech firms. However, the worldwide technology landscape has transformed, with lower technology costs and greater access to tech-savvy team members, making custom software for small businesses more available than ever.
How do you know your shelf software is failing your business?
It irritates your employees.
They've spent time devising solutions for completing software chores. They will pull out spreadsheets and instructions prepared to conduct easy tasks while training a new employee to utilize the system. How much money have you spent on software solutions, training staff to use the software, and replacing employees who have left your organization because they were dissatisfied with the application?
Live data do not drive your decisions.
You have fantastic data, but you can't get to it quickly enough to help your company. Data from this and the other system must be exported and configured into a helpful format. This approach frequently reveals problems committed by humans while manually entering data into several systems. In addition, you are always working with historical data rather than monitoring a dashboard or running a report with current live data.
Your staff is performing tasks that computers could do.
You're wasting money and human capital if your employees spend essential time each day executing various jobs that don't require human thought or creativity. Many processes may be automated with the help of software, resulting in increased productivity and employee satisfaction. To increase efficiency while maintaining control, you can choose which tasks should be automated.
Your software spending is out of hand.
When it's challenging to locate well-designed, ready-to-use software that fits your company's needs, you may end up buying various solutions and paying multiple license fees. Although you only use a few of the available capabilities, you must still pay the whole price, and even if you use multiple solutions at the same time, they may still lack the features your team requires. Naturally, when your company grows, and your user base expands, so do your per-user costs. Take a step back and compile a list of the specific features you require; you may discover that you can construct your custom software for less than the cost of an off-the-shelf solution for a year or two.
What are the advantages of custom software for small business owners?

Custom software is made just for you and your company, and it's targeted to your users. Unlike off-the-shelf solutions, it is not a set of features that fits any business; instead, it is custom-built for your company's services to meet your specific tastes and needs. Custom software features will never limit you, and you will be able to design exactly what you need when you need it. Similarly, you will never be surprised if your program changes, possibly even deleting your most used function, because the leadership of off-the-shelf software company decided they didn't want to support it any longer. You will have complete control over the growth of your program as the owner, and you will immediately profit from the advantages of a custom application.
Fit
Your business is one-of-a-kind, with technological requirements addressing specific concerns and supporting many operations. When you design bespoke software, you get to choose how your apps will function both now and in the future. Rather than adopting a generic set of features and functionality designed for a wide range of consumers, you construct your own. This method ensures that your application is the best fit for your business.
Control
When you use off-the-shelf solutions, you may find yourself having to adapt your procedures to accommodate the ready-made solutions. On the other hand, Custom software allows you to develop the features that you desire, allowing you to streamline how your team conducts business. If the firm that makes your product goes out of business or closes, you may find yourself scrambling to locate a replacement, which may be a costly and unexpected investment.
Cost
Operational costs are reduced when business efficiencies are improved. Your staff will finish tasks in less time and with les frustration thanks to custom software development. Your team members can concentrate on higher-value, higher-priority tasks. This boost in production will have a direct effect on your bottom line. Off-the-shelf software is not as scalable as custom software. The cost of developing custom software for small businesses can be higher or lower than the cost of purchasing a ready-made product. In either case, the application you develop becomes a proprietary asset and a long-term investment in your company's future.
Efficiency
To be profitable as a small business, your employees must work at maximum efficiency. Provisio can help you analyze and find areas where technology might increase productivity. You can save a lot of money by using the app to complete tasks and remove several business processes from the team's workflow. Employee training and retention are a breeze with this technology, which is personalized to your company's needs. Custom software development is not only beneficial to your organization, but it also benefits your staff daily.
Security
Ready-to-use software is more vulnerable than custom software. For starters, breaking into an off-the-shelf solution utilized by hundreds of firms has a higher return for hackers. Furthermore, the code was created for general use and is generally available, making it easier to obtain than custom code. Finally, you want all of your critical information to be secure, regardless of your industry. A specialist approach to development may ensure that your custom software has the security suited for your business.
Support
When your technology fails, your business fails as well. Trying to check on a ticket while on hold with a support desk is a frustrating waste of time. When you own your apps, you have a direct route to support, whether you maintain the product in-house with a full-time employee or through Provisio. For any concerns, you will receive a prompt response and help.
How can custom software help my business grow?
Your technology will evolve and grow in tandem with your business. Adding features to an existing custom solution saves time and money that would otherwise be spent searching for a new product to integrate into your business. In addition, a custom software system is more scalable than an off-the-shelf solution. When you use premade apps, you might expand your firm by adding more software products and increasing your continuing costs. You can design the critical elements for growth with custom software development, and your technology will never limit you.
Scalability
Are you looking to expand into new markets or regions? Are you thinking of buying something? Are you thinking about franchising your company? A scalable software solution is required for optimal expansion. You won't be able to win new consumers if your application slows down or you can't handle an additional volume of business. Ensure that your company can scale to meet your goals by implementing unique technology to keep up with your expansion.
Integration
There will almost probably be a box solution product or two that you will continue to use because they are not unique to your company. For example, you probably won't want to develop your own email system. However, to handle your business procedures efficiently, you'll want to be able to combine your bespoke software with the existing tool. Therefore, your custom solution can include easy and secure integration of your various systems.
Adaptability
Every business develops a set of business processes tailored to the organization's nature and its operations. This workflow may function well at first, but as time goes on, it may no longer meet the organization's needs. As the market, consumers, and competition evolve, all businesses should adapt and change as well. You can add functions and features as needed for your business with custom software development, expanding the product along with your business offerings.
You need technology that will move your firm forward in today's market. If you're ready to learn more about the advantages of custom software development for small businesses and whether or not a custom application is ideal for you, we can help.