Web Development 101: Make it Easy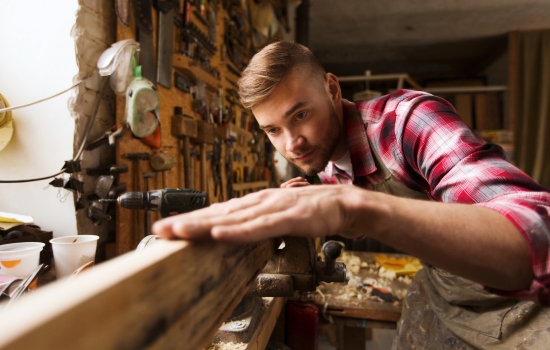 Why do users visit your website? What do they expect to do while they are there? Do you make it easy for them to do their business, or do you hide your best online assets? Identify why your visitors have come to your site and what they want to do while they are there. Then make it easy for them to do it!
In this second part of our Web Development 101 series, we discuss how important website navigation is to building a successful online tool for your users. You can read the first part of the series, Put Content First, here.
Building a Website Designed to Sell Takes Attention to Detail, Like Woodworking
Devon sells woodworking products, like shelves, furniture, and art pieces. Some are custom ordered, but most he makes first and then sells at festivals, art shows, and through an aggregate marketplace website like Etsy. As Devon's business has grown, his online sales have lagged behind. That creates big seasonal swings and makes it hard to manage inventory in the off-season. Devon has talked with some fellow craftsmen, and thinks a new website may help him do better online.
What Are You Doing Here?
When a user finds your website, you've got about 15 seconds to get their attention and make them stay. If you want your website to be useful to viewers and potential customers you need to start with why they are there, and why you want them there.
In Devon's case, the why behind his new web development is to drive sales. The ideal user will be there to browse his online inventory or to place a custom woodworking order. They may be looking for a piece they saw at a local art fair, or they may be trying to find their perfect piece.
How Did You Get Here?
Devon may want users to end up on his shop page, but they probably didn't end up there first. Many users find your website from social media or a search engine. These sources rely primarily on written content. That means users will often "land" on a page that isn't where they meant to end up.
Devon read part one of Web Development 101, and has been generating some great, keyword-rich content for his website and blog. These pages describe his materials and processes, and feature different pieces of furniture. Those pages are bringing visitors to his website, through landing pages and blog posts. But they aren't the pages where Devon will actually make the sale.
Getting From Here to There
That is where website navigation comes in. Anyone who uses websites knows what good and bad web navigation feels like, even if they don't know it. A well-designed website makes easy, intuitive use of headers, links, buttons, and other tools to guide users from where they are to where they want to be. Depending on your site and your goals, this could include:
A clear top menu with easy-to-understand choices

High-contrast links in the text that take users directly to the webpage they are looking for

Strategic use of buttons as part of a call to action, guiding users to do more on your site

Visually attractive carousels, footers, or sidebars that feature your products and link back to your shop page

A search bar that lets users jump right to what they are looking for
When you visit a site with bad navigation, you find yourself hunting for links, or clicking around several pages before you get to where you were going. You may even give up or resort to your browser's finding tool, rather than try to make sense of the site's roadmap.
Devon's existing website had 7 categories across the top and pictures that didn't lead anywhere. His content didn't contain many links or buttons either. But a strategic focus on navigation in his new web development project will give readers easy access to his online shop, custom order page, and customer portal where they can track their orders.
By making it easy for customers to find what they are looking for, you make the most of those 15 seconds and helps more readers convert to paying customers. At Provisio Technology Solutions, all our custom web development projects include web navigation best practices. We are focused on making your website easy to use for you and your users, putting your website to work for your business. Contact us to set up a free consultation.