The Importance of Good UI Design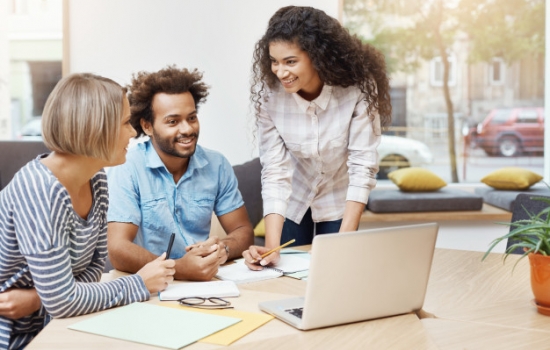 We looked at the importance of UX design, and now we will cover UI design and why it is essential for engaging with your customers. While UX design refers to the quality of experience a user has interacting with your website, UI represents the features of your site that allow a user to interact with it. It includes the basic design elements that are required for a person to navigate your site and make decisions. For example, let's say you are downloading a white paper from a website. Your user interface in this case could consist of a text box, a drop-down list, a button and any other component that allows you to enter your information into the company's system to get your download started.
Why is Good UI Important for Your Business?
Good UI design is one of the most important ways your website can drive traffic and engage your target audience. It draws people in and keeps them there, which can result in improved customer acquisition and retention, higher conversion rates and sales, and increased brand loyalty.
It may be surprising just how big an impact even the smallest changes to UI design can have. For example, the shape and color of a button could determine whether someone knows how to complete a task on your site. Your customers have certain instincts based on visual details that determine how they interact with your website, and at Provisio we take all of these into consideration.
In addition to basic design elements like button shapes and color schemes, users will not stay on your site if it is hard to interact with. When people visit your site, their experience should be one of your top priorities. Making your site's UI design easy to navigate and understand can be the difference between complete success for a user and a potentially discouraging failure. Simply put, a good UI is vital because it can make or break your customer's experience with your business. At Provisio, we focus our UI design on helping your visitors achieve their goals on your site, increasing their engagement, refining functionality, and fostering a strong connection between your customers and your website.
Creating a Great UI
So, clearly good UI design is important, but how do you make sure your site is optimized? Our team at Provisio is here to analyze your site and make specific recommendations to further your company's success. Here are a few basics we always keep in mind.
Easy to Navigate Menus
One thing we always emphasize is the navigation menu. Things cannot be impossible to get to, and every part of your site should be clearly labeled on the navigation menu and placed strategically for your users. The menu location should not change frequently or be hard to find. This makes your entire site harder for people to use.
Simple Design
While fancy layouts and multiple interface patterns can be tempting, this almost always makes your site more difficult for users. When you focus on a simple design, your customers can see what your products or services are clearly and without confusion. Too often complicated designs might look phenomenal but obscure your underlying purpose.
Keep It Consistent
Maintain consistency throughout your website by using common UI elements that people are familiar with. This ensures tasks are accomplished easily and enhances user comfort and gratification.  Having consistent patterns, phrasing, and functions across your website allows users to understand patterns and learn how your site works quickly and efficiently.
Communication is Crucial
When something goes right or wrong on your site, the user should be able to tell. It is important that your website communicates clearly and effectively with your visitors. Including things like default options and pre-filled forms enhances usability, and any instructions should be clearly worded in a way that everyone can understand.
Don't Forget Typography
Just as the typography on your website is important to your branding, it also impacts usability. The typeface you choose should increase readability and legibility of your content. It is easy to focus on colors and graphics, but fonts need particular attention as they can actually illicit specific responses from visitors (for example, what do you think of when you see Comic Sans?) At Provisio, our web designers conduct research, test out different typographies, and optimize everything for readability.
Good UI design focuses on how your website speaks to your users and how they come to engage with your company. Whether you are looking to create a totally new site or update the UI on your current site, Proviso can help take your business further, faster. Let's connect!