What Types of Web Apps Are Used by Businesses?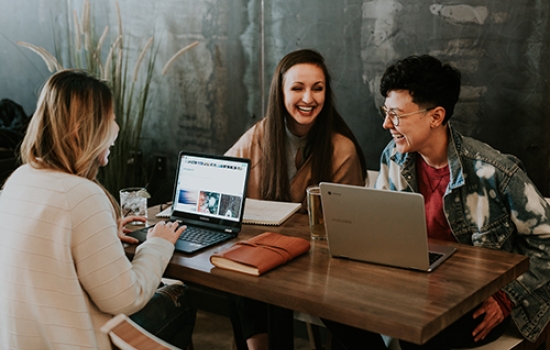 You know your web presence is crucial to building your brand and attracting more customers. What if it's time your website did more than act as a billboard for your business? Custom web apps can help your company solve challenges and streamline systems for your employees and clients.
We've previously posted about custom web apps and what exactly they are—wondering what type of web app is right for your business? Let's take a look at some popular types of web applications.
Dynamic Web Apps
A dynamic web application is a web app that generates data in real-time based on the user's request and server response.
To better understand dynamic web apps, consider the following example you may be very familiar with: when you log in to Netflix, it will suggest movies or series depending on your preferences. For example, if you choose to watch action movies, Netflix will show you more action movie recommendations based on your choices.
Single Page Apps
A single-page application operates entirely within a browser without the need for page reloading. The headers and sidebars of an email app, for example, will remain intact as you access your inbox.
Because the functionality of single-page web apps is directly implemented in the web browser rather than the server, they are significantly faster than typical web applications.
Multiple Page Apps
A web app that includes multiple pages and reloads the whole page whenever a user navigates to a different page is known as a multiple-page app.
For example, when you log in to Amazon to buy a new coffee pot, you need to click on a specific coffee maker, then add it to your cart and hit the next button, the web app will redirect you to the next page. Then, you need to click Buy and again are redirected to the payment page to finalize your order.
Content Management Systems
CMS stands for content management system, and it is a software application that assists users in managing digital content, as well as improving content creation and management 
Without technical experience, a content management system allows you to create, edit, and manage your website. You don't need extensive technical expertise and don't have to know how to code to manage your content workflows successfully.
E-commerce Web Apps
An e-commerce web app is a web application that allows users to buy or sell things over the internet electronically. Payment and transaction integration are critical components of e-commerce web applications.
Electronic funds transfers and deposits, inventory management systems, mobile commerce, and supply chain management are all used in e-commerce.
Portal Apps
A portal web app is a type of web application that is available via the internet and aggregates information from various sources. By offering tailored access and user-centric navigation based on the user's demands, portal web applications help scale organizations and processes. Client portals, patient portals, and education portals are some of the most popular types of portal apps.
A good example is our subscription-based software for active adult communities, LifestyleLink, which helps large communities to manage hundreds of clubs, facility reservations and event ticket sales. It's a great example of a membership portal with a robust permissions system to make sure that members see and can do only those things they should. In addition, we have built numerous portals that allow the site administrator to manage memberships and delegate administrative responsibilities to other members.
At Provisio, we build custom web apps that fit the unique needs of your business. We'll learn about your company's specific situation, collaborate with you on the major goals and pain points your app should solve, and build a solution that will help you grow your business faster.